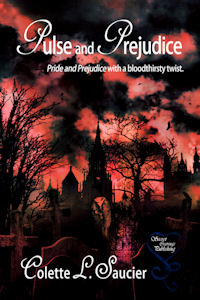 Colette will be joining many Austenesque Authors at the Decatur Book Festival and will be signing her novels Pulse and Prejudice and All My Tomorrows at the Jane Austen Society booth throughout the weekend.
Saturday: 10:00-11:15 and 12:30-3:00
Sunday: 12:00-1:00,  2:00-3:00, and 5:00-6:00

Colette will also be signing Pulse and Prejudice at the Secret Cravings Publishing booth, Saturday, 3:30 – 5:30.
The AJC Decatur Book Festival is the largest independent book festival in the country and one of the five largest overall. Since its launch, more than 900 world-class authors and 260,000 festival-goers have crowded the historic downtown Decatur square to enjoy book signings, author readings, panel discussions, an interactive children's area, live music, parades, cooking demonstrations, poetry slams, writing workshops, and more.