2013 AMAZON BREAKTHROUGH NOVEL AWARD SEMI-FINALIST
AUSTENPROSE DEBUT AUTHOR OF THE YEAR – 2012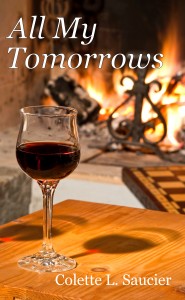 "Engagingly written and entertaining – Laugh-out-loud funny and filled with endearing characters, the novel's greatest strength is its masterful dialogue and the banter between the players. Skillfully rendered love scenes add heat to the romances, which the author keeps interesting through a roller coaster of plot twists." – Publishers Weekly
"5 out of 5 stars  All My Tomorrows solidified the thoughts I had after reading Pulse and Prejudice: Saucier is a master storyteller. Her ability to keep the reader engaged throughout both works is fantastic." – Austenprose
Now Available in Paperback and eBook
All My Tomorrows is losing the ratings war.
For headwriter Alice McGillicutty, the past year has had enough drama. Her mother passed away, her last relationship ended in disaster, and now poor ratings are catapulting her long-running soap opera toward cancellation. For comfort and creative inspiration, she begins reading The Edge of Darkness, an old melodramatic paperback she found among her mother's belongings.
When scandal rips Hollywood bad boy Peter Walsingham off the tabloids and into her studio, Alice doubts the small screen is big enough for his ego – or his entourage. In their battle of pride and prejudice, will Peter's vanity and arrogance compel Alice to write him out of her script, or can she find a role for him in All My Tomorrows?
This contemporary romance not only follows Alice and Peter as they wrestle with misunderstandings, pride, and prejudices, but also the trials and travails of Alexandra, the heroine of the absurdist novel 'The Edge of Darkness.' Full chapters of the book-within-the-book are included as Alice reads and allows that story to influence her own.
Though the plot of the primary novel is vaguely reminiscent of Pride and Prejudice, Peter and Alice are no Darcy and Elizabeth but fully-formed characters from the twenty-first century.
"A thoroughly entertaining read – Peter and Alice have a fun and feisty relationship. Their confrontations are full of snappy dialogue and a tension that is more longing than overtly sexual. But when the sparks do fly, these two light up the room!" – InD'Tale Magazine
"I really enjoyed reading this book and I have been trying for some time to find something as well developed and sturdy as these characterizations are. I found Alice and Peter to be a funny, witty couple with good senses of humor. My fondest wish is that they live happily ever after… I highly recommend this book to all readers who are looking for something original and fun to read."  – Gaston Sanders, Author of: The Silent Heroes, Sirus Toad and the Grumpy Troll, The Mystery of the Missing Homework, and Cole's Fairyland Adventure.
"Saucier tells a wonderful love story with a sensual flare that warms the heart. Romance at its best delivered on a silver platter." – Grammy Ellen's Book Reviews
"Although it has plenty of light, funny moments, it also draws you in to care for the characters. Once I had started reading, I found it very hard to put this book down." – Austen Prequels and Sequels "A very smart, comical and fast paced version of Pride & Prejudice." – Once Upon a Twilight
Please feel free to review "All My Tomorrows" on askDavid.com
Excerpt from All My Tomorrows
"Alice," Peter called out from his make-up chair. She stopped and faced him but didn't approach. She refused to be summoned to join the bevy of females floating around him. As soon as he seemed to realize that, he stood and walked to her with script in hand.
"Is there something you can do for me, Mr. Walsingham?"
"Uh…yes. I wanted to discuss this scene I have with my sister."
She released an aggravated sigh. Now what?
"Could we speak somewhere more private?" he asked. "Your office perhaps?"
She shrugged and led the way, and he closed her office door behind them. She faced him with her arms folded across her chest.
"So what's the problem now? The plot? The dialog?"
"No, I've given up on that. I was just thinking that this is momentous information Tristan is sharing with Clarissa. I don't think he would discuss it with her in a hospital cafeteria."
"We've had too many scenes in her living room already. She's a brain surgeon; she has to spend some time in the hospital."
"But even to discuss the script, I asked if we could speak in private. She is a neurosurgeon. She should have her own office at the hospital."
He did have a point. "We do have a doctor's office around here somewhere. This is really going to piss off all the extras in that scene."
"Maybe we could start in the cafeteria and move to her office. Here, let me show you." He opened the script and handed it to her and then, coming behind her to read over her shoulder, pointed out the section. "We could go ahead and keep all this."
He spoke low, his breath against her ear, and his nearness disconcerted here. Her already-tiny office continued to shrink around them. Is he sniffing my hair?
Focus! "And, uh, right here she could say something like, 'We should discuss this in private. Let's go to my office.'" He smelled good. Under the aromas of make-up and hairspray and soundstage, she could detect a spiciness that reminded her of pumpkin pie and yet somehow masculine. Warm and familiar, like holidays at home.
"Yes, exactly," he said softly against her neck.
She flinched then turned around to face him and took a step back. She waited for her heart to start beating again before speaking. "I…um…I like it."