Haunted by a traumatic accident and her husband's betrayal, Alicia believes she can never trust again. Now she must surrender her will to Mason if she wants to find out if the bizarre events terrorizing her are the work of the paranormal, her own paranoia, or something far more sinister.
Paperback and eBook Available Now!
Tweet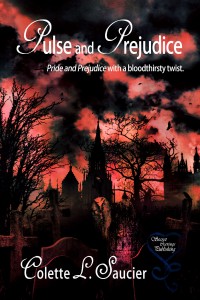 In this thrilling and sensual adaptation of the classic love story, Elizabeth Bennet and the citizens of Hertfordshire know Fitzwilliam Darcy to be a proud, unpleasant sort of man, but they never suspect the dark secret of his true nature.  He is not a man at all – but a vampire.
View trailer  as featured on USAToday.com
Available in Paperback and eBook
Now Also Available in Audiobook! (Listen to Sample)

Praise for Pulse and Prejudice:
"What would Jane Austen have thought? I think she would have loved this book. She might even have written it herself had she lived in a less constrained age." Books Are Cool "Darcy's demise and subsequent 'rebirth' are written to perfection. It has renewed my faith in the sub-genre." Reflections of a Book Addict "I cannot express enough how skeptical I was upon starting this book.
Pride and Prejudice
with a touch of vampires was enough to send me into fits of eye rolls. But, within only the first chapter, I found myself strangely drawn to the story. The vampire Darcy weaves his spell quickly." Austenprose


All My Tomorrows is losing the ratings war.
Headwriter Alice McGillicutty would do anything to save the long-running soap opera from cancellation, even reading the old absurdist melodrama The Edge of Darkness for inspiration.
When scandal rips Hollywood bad boy Peter Walsingham off the tabloids and into her studio, Alice doubts the small screen is big enough for his ego – or his entourage. In their battle of pride and prejudice, will Peter's vanity and arrogance compel Alice to write him out of her script, or can she find a role for him in All My Tomorrows?
Now Available in Paperback and eBook
Voted Top 10 Romance Novel of 2012

"Engagingly written and entertaining – Laugh-out-loud funny and filled with endearing characters, the novel's greatest strength is its masterful dialogue and the banter between the players. Skillfully rendered love scenes add heat to the romances, which the author keeps interesting through a roller coaster of plot twists." – Publishers Weekly
"Saucier tells a wonderful love story with a sensual flare that warms the heart. Romance at its best delivered on a silver platter."
Austenprose 2012 Debut Author of the Year
"5 out of 5 stars: 
All My Tomorrows
has solidified the thoughts I had after reading
Pulse and Prejudice
, in that Saucier is a master storyteller.  Her ability to keep the reader engaged throughout both works is fantastic."
Tweet
Contact Colette Saucier by email: colette@colettesaucier.com
Find Colette Saucier on Austen Authors